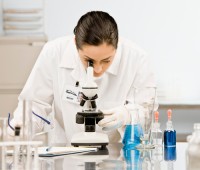 The ongoing war between those for and against genetically modified organisms can be quite harsh. One side alarms the public of its potential danger and risks while the other praises its benefits and advantages. If you just focus on the word war between the two factions, you can easily say that both parties may have a worthy argument on what they believe in. But once you take a look at the evidence offered by science and the effects of its use in countries that approve its use, only then can you have a better perspective on what really goes on.
There are dangers that use of GMO's can pose on the health and the environment. It may not necessarily by the crop itself, but by the other products it is being designed for. Take for example the use of the herbicide glyphosate. A recent study has found that it may disrupt uterine development it female rats exposed to it.
According to a study conducted by researchers in Argentina, the herbicide glyphosate can disrupt the development of the uterus of female rats when they were exposed to it for seven days after birth. The powerful herbicide caused some structural changes in the uterus of the rats even though signs of toxicity or weight changes were not evident on the treated pups. The herbicide was also seen to disrupt protein expression associated with the development of the uterus.
Glyphosate is a powerful herbicide used in conjunction with certain crops genetically modified to withstand its effects. Issues with the safety of the said herbicide has been going on for years, all the while its use has continued to spread. Scientists have noted that there seems to be a high incidence of miscarriages among women in areas where glyphosate use is common in cultivated farms. It has been noted in several regions in Argentina where GM Roundup Soy is being cultivated with the use of the powerful herbicide.
But aside from the alarming studies, regulators have some concerns regarding certain procedures used in the study. They highlighted that the exposure route used by the researchers to introduce the herbicide during the study is through subcutaneous injection. They argue that this is not the usual route of exposure for the herbicide. Regulatory bodies usually prefer other more common exposure routes in toxicology testing such as oral administration and other means  that try to mimic human exposure routes as closely as possible. The findings of the said study may likely be ignored by regulators based on this fact. And so the quest to determine the safety of such powerful pesticides used in GM crops continues.
Source: GM Watch